Description
We now have flexible payments available for Dualtron Thunder starting at £111/mo - pay with Klarna!
Dualtron THUNDER is a 5400 Watts Dual Motor Electric Scooter launched by Minimotors in 2018. With a weight of 43 Kg or 6.7 Stone or 95 lb, Dualtron Thunder has a range of 105 kilometres or 65 miles and a top speed of 80 km/h or 50 mph. Suitable for Urban Roads, it has an Adjustable Rubber Suspension which can be made Softer or Harder (suspension cartridges can be installed by the user), an LG 60V 35Ah Battery, 90/65-6.5 11 Inch Super Wide Pneumatic Tyres, Hydraulic Disc Brakes with Hydraulic Brake Lines.
Wide 11-Inch tubeless tires 45 PSI
one of the fastest electric scooters in the world
60V 35Ah High-Quality LG Battery
5400W electric motors by Minimotors
adjustable power from EYE Throttle
fingerprint lock (optional)
seat (optional)
GPS Track&Retrieve (optional)
Carry Handle (optional)
Illuminated Deck (optional)
electric + eABS and hydraulic brake

5 types of swappable suspension
3 levels of ground clearance
foldable, able to stow in car boot, back seats
foldable handlebars with securing deck hook
quick-swap punctured tyre fastened with only 6 screws
lightweight, tubeless tyres with alloy rim
detachable Minimotors-Made external battery
buy Range Extender II for 100 Mile Total Range
Available with Free Delivery in the UK and Europe and 12 Months Warranty from Scootera.uk Official Minimotors Distributor in the United Kingdom.
Our standard delivery times depend on the product type and its availability.

Parts and Accessories available in stock: delivery times are one (1) to three (3) days across UK and two (2) to four (4) days across Europe following the acceptance of your order.

Parts and Accessories Pre-ordered: delivery times are five (5) to ten (10) days across UK and seven (7) to twelve (12) days across Europe following the acceptance of your order.

Scooters in stock: delivery times are one (1) to three (3) days across UK and two (2) to four (4) days across Europe following the acceptance of your order.

Scooters Pre-ordered: delivery times are five (5) to seven (7) weeks following the acceptance of your order.
Payment & Security
Your payment information is processed securely. We do not store credit card details nor have access to your credit card information.
Customer Reviews
30 August 2020
Jose C.
United Kingdom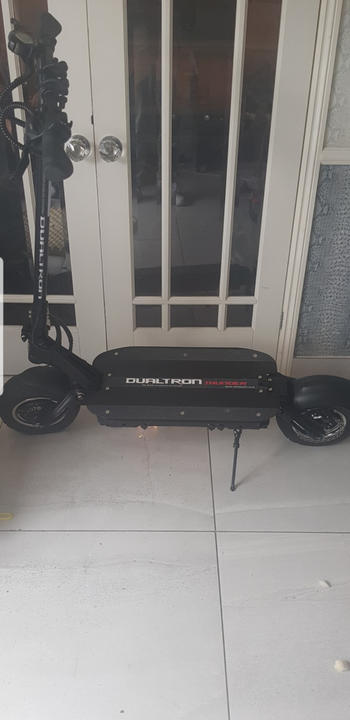 22 August 2020
Daultron thunder!
Great costumer service always there to take time and help out i would reccomend you buy your dualtron here genuine seller great product.
Lathan j.
United Kingdom
19 August 2020
Great scooter
Excellent product, Great bunch of guys, Brilliant customer service looking to use them again.
Lawrence D.
United Kingdom
29 July 2020
Great service and great scooter!
Great service and kept informed along the way while waiting for the scooter to arrive into the country. Always available on the phone for any questions that you may have which is a great bonus. would definitely recommend :)
Mandeep S.
United Kingdom
17 May 2020
a gift to humanity
i love my Dualtron. cannot live without it. slightly disappointed i didn't get a quick charger included in the deal. but otherwise a happy man from Denmark.
Thomas H.
Denmark
25 May 2020
Scootera | Dualtron UK
Hi Thomas, we must tell you that we give a Fast Charger with every scooter purchase, AT 30% DISCOUNT! Ask and you shall receive! In all, you'll only be paying about £100. Same applies to the Normal Charger - to double your charging speed while preserving the life of your battery.
25 March 2020
Exceptional product, outstanding services
I recently bought a Dualtron Thunder from Dualtron UK. As far as the product is concerned, all the expectations are met: sturdy, well built, quality materials, you name it. On the services, I congratulate Dualtron UK team for making the efforts to deliver this product in times of great challenges, they kept me inform on the status of the shipping, from the factory to my door. The product was shipped via UPS, safely and on time. Thank you guys, you are really awesome! Definitely I will buy some accessories very soon!
05 December 2019
Dualtron Thunder ( brakes and disc replacement )
Very good service and price,quick delivery.
28 October 2019
perfect scooter
nobody has experience with problems, now my thunder is going only 56km/h top speed and nobody knows why
27 October 2019
DUALTRON THUNDER
with the model thunder I'm happy, performance great, only at that price I would expect better quality. The LED bar has gone wrong three times, then the dual drive switch has gone wrong and the folding mechanism could also be on a higher level.