International Delivery
When you place an order from outside the United Kingdom, you will have to pay import taxes. Learn More
Description
Description: Mark.H.M Quality made Double Clamp, otherwise called folding clamp or quick release (QR), that is customized to fit almost all Dualtron Models. 

Function: This customised double clamp is not made by the manufacturer but it was created to replace the original single folding clamp for a better looking and in some cases, to prevent wobbling of the steering column. 
Note: Please be aware that this double clamp fits differently on Dualtron than the original quick release.  Watch Video https://youtu.be/_l8bxzFqKVM
Compatibility:

Dualtron Thunder
Dualtron Ultra, Ultra2
Dualtron Spider
Dualtron Eagle Pro
Dualtron 3
Dualtron Raptor
Dualtron Compact
New Dualtron
Included: 1x double clamp with two pins. 
https://youtu.be/_l8bxzFqKVM
Disclaimer
Electric scooters or e-scooters or powered transporters are not to be used on footpaths, cycle lanes or roads in the UK. It is the complete responsibility of the customer to ensure that you operate your e-scooter within all country and local laws. The customer holds Scootera Ltd and its owners free from any liability caused by their use and assumes all liability and risk associated with the use of electric scooter products.
Delivery Estimates
UK to UK
Standard 3-4 days (£2.99)
Express 1-2 days: (£6.99)

UK to Europe
UPS Standard: 3-5 days
UPS Express Saver: 1-3 days
UPS Express: 1-2 days

UK to USA
UPS Express Saver: 1-3 days
UPS Express: 1-2 days

UK to Rest of the World
UPS Express Saver: 3-6 days
UPS Express: 3-5 days

For international delivery, the shipping cost is calculated at checkout and a delivery estimated time is provided when the order is despatched.

You will pay additional import taxes if you order from outside the UK. Learn More
Product History
Product First Available: February 19, 2023
Customer question and answers
Thanks for asking your question. A team member will reach out to you soon.
We're sorry, something went wrong. Please email us directly.
Customer Reviews
14 April 2021
Ovidiu

United Kingdom
I recommend this product
Disappointed
Bought this clamp, nicely manufactured but i reached the point where i need a pliers to hold the nuts, and still got a play in stem, quite expensive for something that didn't solve the issue with the stem. Not recommended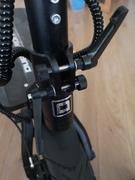 19 April 2021
Dualtron.uk
Your stem may have further issues. I recommend booking a repair with us. The clamp could be used without the included washers to have more grip while tightening.