Description
Mark.H.M Quality made Double Clamp, otherwise called folding clamp or quick release (QR), that is customized to fit almost all Dualtron Models. 
Please be aware that this double clamp fits differently on Dualtron than the original quick release.  
Compatible with:
Dualtron Thunder
Dualtron Ultra
Dualtron 3
Dualtron Spider
Dualtron 2
Dualtron Eagle Pro
New Dualtron
Dualtron Raptor
Dualtron Compact
https://youtu.be/_l8bxzFqKVM
Payment & Security
Your payment information is processed securely. We do not store credit card details nor have access to your credit card information.
Customer Reviews
Ovidiu

United Kingdom
I recommend this product
14 April 2021
Disappointed
Bought this clamp, nicely manufactured but i reached the point where i need a pliers to hold the nuts, and still got a play in stem, quite expensive for something that didn't solve the issue with the stem. Not recommended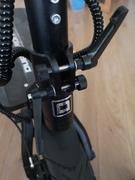 19 April 2021
Dualtron.uk
Your stem may have further issues. I recommend booking a repair with us. The clamp could be used without the included washers to have more grip while tightening.